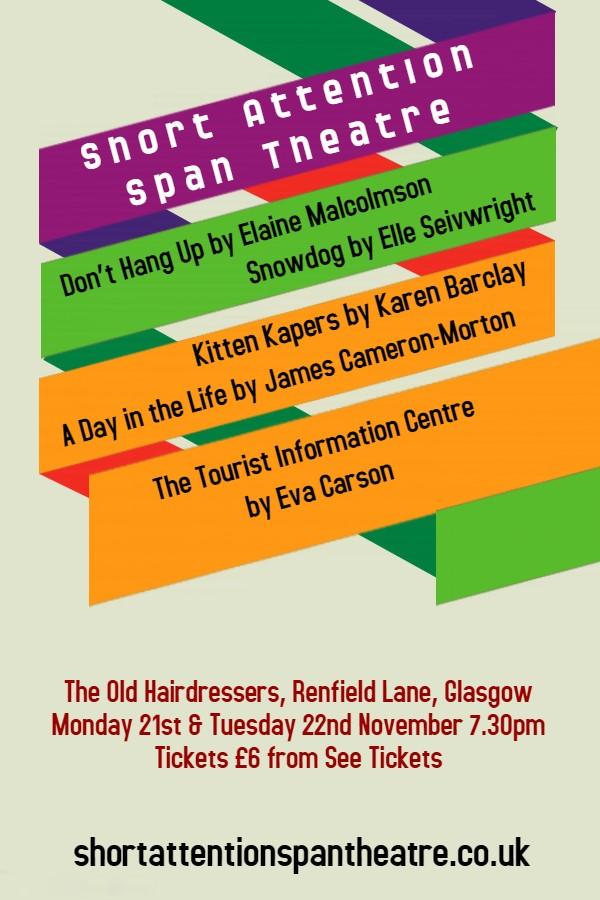 The Tourist Information Centre by Eva Carson
In her first Summer season in The Highlands, Fiona, learns there's more to customer service than maps, guidebooks and tartan towels.
Eva worked with dramaturg Glenys Leigh McIntyre to write this piece. This is what Eva had to say about the experience. "Working with a dramaturg through SAST was an invaluable experience. Learning how to receive and apply honest, impartial feedback on your work is a fundamental skill for any writer, and I benefited hugely from the expertise. I'd urge all aspiring playwrights to take advantage of the opportunity."

A Day in the Life By James Cameron Morton

When did we men lose it? A man considers.
Snowdog by Elle Seivwright

Rot is a doctor, Pac is his patient, Vee is Pac's wife. Rot and Vee want Pac's password, Pac wants a bouncy castle.
Don't Hang Up by Elaine Malcolmson
Some calls are more important than others to the staff of a call-centre but their boss only sees the stats in front of him.
Kitten Kapers by Karen Barclay

A Witch keeps her new husband busy with feline spells, while she looks for his money, but has she cast a spell too far?