Short Attention Span Theatre in July 2015 featured four plays.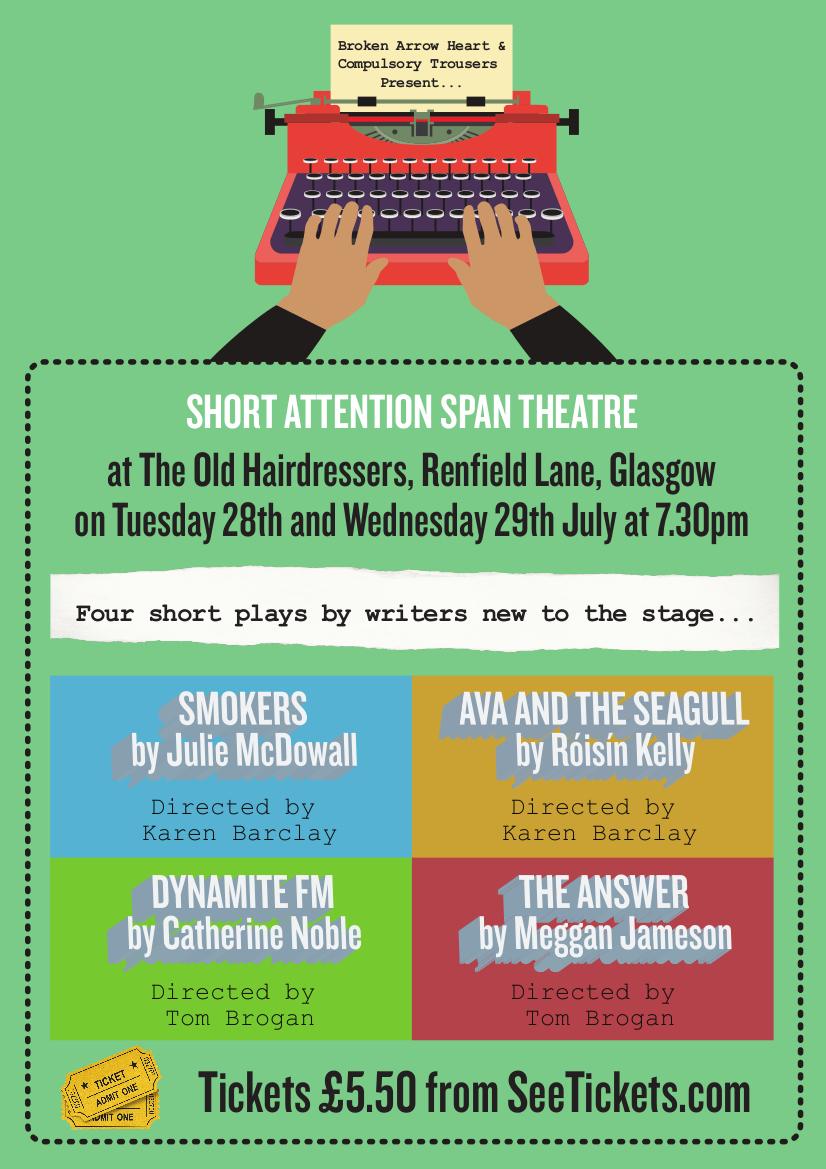 Dynamite FM by Catherine Noble
Newly single Jason has high hopes for his mate's pirate radio party. He's looking to let off some steam, forget his problems, and find a hot burd who'll take him home for the night. Any takers?
Cast
Jason – Scott Canevy
Geo – Tanvir Bashir
Gemma – Sarah Meikle
Moira – Ros McCue
The Answer by Meggan Jameson
Could someone really tell you answers to the question you've always wanted to ask? Three woman one night in a flat think so and they are about to find out. What they didn't bank on was it might not be to the questions they thought they had.
Cast
Sarah – Sarah Meikle
Morag – Louise Henderson
Elly – Gillian Massey
Rose – Ros McCue
Ava and the Seagull by Róisín Kelly
Ava loves Peter. Colm loves Ava. And Big Bad One. A dark tale of bird love, betrayal and revenge.
Cast
Ava – Julie Martis
Colm– Derek Banner
Smokers by Julie McDowall
The play is about Julie's favourite topic - the end of the world - and shows two people enjoying a last cigarette before they have to descend into a nuclear bunker.
Cast
David – Derek Banner
Emma – Johanna Harper
Liz – Louise Henderson
Alan – Tanvir Bashir
Soldier – Scott Canevy
Thanks to – Bruce Downie and Govanhill Baths Community Trust, Richy Walsh and Jo Lehmann.
Poster designed by Louise Henderson