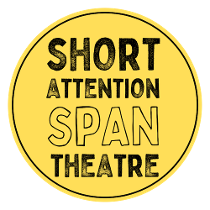 short attention span theatre
Short Attention Span Theatre was set up in 2015 by Tom Brogan and Karen Barclay with the aim of enabling early career writers to see their works staged. Writers will write to a deadline, see their work rehearsed, re-write, and see their finished piece performed in front of a paying audience. The writer is encouraged to attend rehearsals and work collaboratively with the director and cast.
We are also on Facebook at SASTGlasgow Twitter at SASTSCOTLAND and Instagram at SASTGlasgow.
Since January 2018 we've been sending out a monthly newsletter which regularly includes a range of things we think you might find interesting from the worlds of theatre and writing. You can sign up with this form.
Our next show is at The Rum Shack on Glasgow's Pollokshaws Road on Thursday 27th February, 2020.
Below is Catriona Duggan on BBC 6 Music's Radcliffe and Maconie programme in June 2019 giving us a plug.
Below are some clips from the November 2015 show.